If you are looking to make some extra money without doing anything, then in this blog I am going to share 3 websites from where you can earn $5-$200 per month. Basically, it is about sharing your internet, if you have access to unlimited data and a lot if internet bandwidth that is going wasted, then is the best way to earn money.
How it works?
You will need to install a application on your PC or Mobile phone and keep it running in the background to share the internet.
In case of earning, your location, IP address and network speed matters the most in how much you can earn.
Privacy
Okay, it is one of the ways to earn money, but this cannot be 100% safe. You allow some stranger to use your identity and surf whatever they want by providing your internet. Google play store does not allow these kinds of apps. It is a good source of income but still it's a grey area.
Let's start…
Honeygain is excellent website that is selling internet bandwidth and it's one of the highest paying website for passive income by sharing your internet.. You get 1 credit after use of 10MB.
1000 credits = 1 credit
10GB data usage = $1
You must have 20,000 credits in order to checkout. This website also gives a $5 joining bonus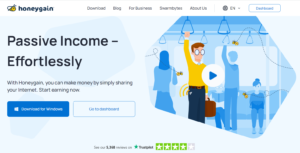 With this website you can make $5-$75 in a month. This earning depends on your network, so the large the number of people in your network the more money you can make. You can make money with the referrals as well. For every 30 referrals you can make a $100.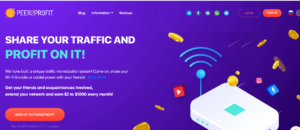 This is the third and last website for making money by sharing your internet. Nano wire pays $0.50 for usage of every 1GB. This website is based on cryptocurrency and they have their own coin. Which means you will get your earning in crypto.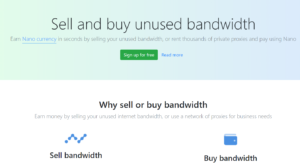 Conclusion:
I hope these tools will help you in making some extra money and all these websites are free to join. Pick a website and starting earning, but make sure your safety first.