People with ENFP relationships have a high level of empathy, which makes it easy for them to connect with people of any other personality type. They like to share their natural ability to think creatively with others by helping them come up with new ways to solve problems. When they can, ENFPs would rather find a way to get along than get into a fight. ENFPs are very loyal to the people in their lives because it's in their nature to be so.
With what other types of people do ENFPs get along best?
The INFJ or INTJ would get along well with an ENFP. At first glance, these combinations don't seem to have anything in common, but they work well together and might teach each other something useful. Because they each have different strengths and weaknesses, they also work well together.
What are the worst qualities in other people for ENFP compatibility?
The worst kind of friend for an ENFP is an ISTP. The two personas are not able to talk to each other. The ENFP tends to look at the bigger picture and wonder why things happen the way they do, so the ISTP's way of life doesn't really interest them. The ISTP doesn't value the ENFP's passion and kindness as much as they do their own.
Also read: Consequences Of Dating Someone With Borderline Personality Disorder
How ENFPs get along in relationships
ENFPs put a lot of time and effort into their relationships, which are very important to them. A lot of people are drawn to an ENFP compatibility because they are kind and helpful, but other people might find that the ENFP is too focused on them.
Priorities of the ENFP relationships
People with the ENFP personality type are very self-aware and caring. In a romantic relationship, people often want to be with someone who is emotionally smart.
ENFPs, who is one of the Enneagram 2 personality types, find routine or predictable work boring. They often look for someone who likes art, has a good sense of humor, and likes to try new things.
People with the ENFP personality type are loyal and want to be with someone who shares their values.
What do the ideal ENFP relationships look like? When they really care about something or someone, they often don't try to hide how they feel. ENFPs will often go out of their way to show their love for their partner.
If an ENFP is lucky, they'll find a partner who has the same priorities and values as them. They like partners who are as excited about adventures as they are, and they do best in relationships where both people admire and care for each other.
Relationship Behavior of an ENFP
When they have a partner, ENFP relationships give them their all, which is different from how they act when they are single, when they are outgoing and friendly. ENFPs are driven to help their relationships succeed because they care so much about their own growth and happiness.
When the ENFP's partner has more at stake in the relationship than they do, their overt displays of love may be too much for them to handle.
ENFPs will do anything to keep peace and harmony, even if it means turning themselves inside out. When faced with a difficult situation, ENFPs may try to keep their emotions in check to avoid a fight. Even if their partner doesn't mean to be mean, an ENFP may still feel hurt by what they say.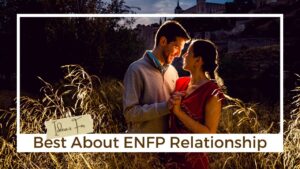 An ENFP is completely wrapped up in their relationship
A partner who doesn't like change or routine could make an ENFP lose interest in life. The same is true if an ENFP's partner makes fun of them for being too enthusiastic.
ENFPs find it annoying and uncomfortable to have a partner who can't talk about their feelings or who tries to hide them. They need partners who will show them love back and who they can be honest with about how they feel.
People with the ENFP personality type care deeply about and pay close attention to how other people feel. This is especially true when two people fall in love. When it comes to love, ENFP compatibility gives all of their boundless energy, sense of humor, and unwavering commitment.
How do ENFP Men behave in love?
The ENFP man shows his feelings through a lot of compliments, small surprises, and care. Because they are so in touch with their emotions, ENFPs are often the first to say what they think and dive right into new situations.
Even though ENFP men are said to be unfaithful, the truth is that they are loyal to their partners. This is partly because ENFPs put a lot of value on keeping their word. If people don't know what they're up to, they might think that their wives and other people are inviting them out on a date.
ENFP men would rather not tell other people how they feel about themselves. To get an ENFP to talk about how he feels, you have to be a certain kind of person.
What do the ENFP Women do in love?
When an ENFP woman falls in love, she wants to give her partner everything. Because she cares about and pays attention to her partner, the ENFP woman often knows what they need before they do.
Some people may find a romantic ENFP woman's gentle and giving nature endearing, while others may feel stifled by it. If you are a woman who still wishes to make her relationship perfect, then you should read 6 Types of Romantic Relationships that Exist.
Since an ENFP woman is sensitive to her partner's feelings and experiences, she often puts her partner's needs before her own. If her partner isn't as interested in her as she is in him or her, it could hurt her feelings.
The ENFP woman is often hesitant to talk about how she feels. Because of this, she can start to feel like her partner doesn't understand her at all and has left her. Because she is all or nothing, she is very loyal to the people she loves.
How can an ENFP know they're in love?
The best sign that an ENFP loves someone is when they can let down their guard and let the other person get to know the real them. Most people wouldn't guess that ENFPs have their own secret world because they seem so nice and caring.
You wouldn't be wrong to say that only a small number of people really understand ENFPs. You can be sure that an ENFP is in love with you if you make them feel safe enough to share their deepest thoughts and feelings.