As fashion trends evolve, the use of lab-grown diamonds is becoming an increasingly popular option in the world of jewelry. These synthetic gems offer a sustainable and ethical alternative to mined diamonds, while still offering the same beauty and style.
Lab diamonds are upending traditional notions of luxury by providing consumers with affordable options that don't sacrifice quality or brilliance.
With their environmental sustainability and luxurious aesthetics, lab diamonds are shaping the future of fashion for years to come.
Unprecedented Design Possibilities with Lab Diamonds
Lab diamonds are revolutionizing the fashion industry, and with them comes an unprecedented ability to design beautiful jewelry that is both unique and impactful. Lab made diamonds offer a virtually limitless array of possibilities for designers.
Their precise molecular structure allows for customization of color, clarity, and cuts in ways never before possible. The result is stunningly crafted pieces that will set trends in the world of fashion.
Lab diamonds also allow for more intricate designs than ever before—from bold statement pieces to delicate works of art—which can be tailored to individual tastes or specific occasions with ease.
By harnessing this technology, fashion designers have opened up a whole new world of creativity and expression within their craft!
Exploring New Sustainability Standards with Lab-Created Jewelry
The dawn of the 21st century has brought with it a shift in society's priorities, particularly when it comes to fashion. Fashion is no longer just about looking good; increasingly, people are also concerned with making sure their clothing choices align with what they stand for.
As such, consumers have been turning away from traditional diamonds and towards lab-created jewels as an ethical alternative. This article will explore how these lab diamonds are impacting the future of fashion by shifting sustainability standards in the industry.
Lab diamond production requires minimal resources compared to traditional mining methods and contributes significantly fewer carbon emissions into the global atmosphere. In addition, many companies that produce laboratory diamonds use renewable energy sources exclusively for powering their facilities — leading to zero carbon footprints associated with the production process itself.
These environmental benefits make lab diamonds an attractive option for those who wish to ensure that their purchase meets specific sustainability standards without sacrificing aesthetics or style options available on market today. Moreover, technological advancements allow engineers to create different types of cuts and shapes which would otherwise be impossible using mined stones – providing unparalleled diversity when designing jewelry pieces made from laboratory gems.
Consumers can now choose from exquisite round-cut solitaires all way up to intricate fancy cuts favored by celebrities around the world – all while still adhering to environmentally friendly values they support through buying choice alone!
In sum, lab-created diamonds offer fashion enthusiasts a unique opportunity to express themselves through beautiful jewelry designs while embracing sustainable practices – something that was not possible before this technology revolutionized the industry!
Cost Advantages of Synthetic Stones in Fashion Accessories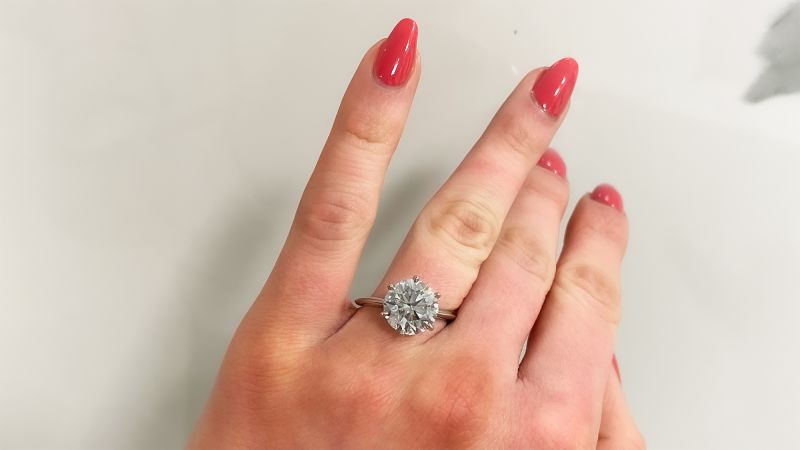 The use of synthetic diamonds in fashion accessories has become increasingly popular due to their cost advantages. Lab-grown stones are much more affordable than mined diamonds, allowing fashion designers and consumers alike to enjoy the same quality diamond for a fraction of the price.
With lab-grown diamonds, jewelers have access to an expansive range of high-quality diamond cuts and sizes with reduced overhead costs that can be passed on to customers.
The availability of these stones also allows for increased creativity when designing jewelry pieces as they come in various shapes, sizes, and colors without compromising on durability or brilliance as traditional gems might. Not only is this beneficial from a financial perspective but it also offers sustainable options that don't require mining which can cause environmental damage over time.
Furthermore, due to the lower cost associated with lab-grown diamonds, smaller-sized stones such as those used in cocktail rings and earrings can now be crafted into higher-end luxury items at accessible prices while still providing excellent quality materials.
Ultimately, this means synthetic diamonds are giving people greater access to fashion jewelry pieces without breaking the bank – something no other material has been able to do before!
Making Affordable Luxury a Reality with Lab-Grown Gems
Lab-grown diamonds are revolutionizing the fashion industry by making luxury jewelry more affordable than ever before
By combining cutting-edge technology with exquisite craftsmanship, lab diamonds can create beautiful pieces of jewelry that look and feel just like the traditionally mined diamonds, but at a fraction of their cost.
Lab-grown gems are not only an eco-friendly choice, but they also offer customers access to high-quality diamond pieces without breaking their budget. With lab-grown gemstones, you don't have to choose between affordability and beauty – now you can have both!
Whether it's for everyday wear or a special occasion outfit, lab-created gems make luxurious accessories accessible to everyone who desires them. From engagement rings to necklaces and earrings, these stunning stones will elevate any ensemble while keeping costs low.
The future of fashion is here: Making affordable luxury a reality with lab-grown gems!