Codependency is sometimes thought of as a disease. When two people in a relationship become too dependent on each other, it can lead to many problems. When one person in a relationship needs the other person's presence or help to stay alive, that person is said to depend on the other person.
Condition of being very dependent on another person. A disorder in which a person is overly possessive and always wants their partner's attention. When two people are too reliant on each other, it hurts the relationship.
However, that's not the only wrong thing. In any relationship, two signs of codependence are acting needy and always wanting attention. It could make things a lot worse. A codependent's sense of worth in the world comes from how their partner feels about them.
Codependent people put their partners' needs ahead of their own and give up what they want for the relationship. People in a codependent relationship have trouble saying "no," which keeps them stuck in unhealthy patterns in their relationships.
Any kind of friendly or hostile relationship can lead to codependency. Codependency happens when one partner is always trying to meet the needs of the other by paying attention to them and doing whatever else they want. Two-way codependence occurs when one partner becomes addicted to the actions of the other because they make them feel loved and wanted.
Also read: 7 Best Relationship Advice For Couples
Sign And Symbols of Codependent Relationships
Having only one parent around during childhood makes it more likely that the child will become codependent as an adult. Living with someone who has a mental illness could cause a person to show signs of codependence. The breakup of marriages is another factor. Even if the abuse stops when the child is an adult, the effects of the trauma may still be there.
One of the signs of a codependent relationship is that both people depend too much on each other. Along with a person's mental health, this can also hurt their physical health. Codependency has been linked to many other problems, such as drug abuse, bulimia, and gambling disorder. When one of the following happens, the person knows they are in a codependent relationship.
7 Signs You're in a Codependent Relationship
All his joy, happiness, and satisfaction depend on the other person in the relationship when a person needs their partner so much that they or can't be happy on their own.
Someone may choose to stay in a relationship with their partner even though they strongly disagree with some of the things their partner does or says because they know that life would be impossible without them.
So that their lover always has their back, a person's mental and physical health are put at risk.
When someone gets married, they often feel responsible for their partner, including what they do and decide.
It's crucial to get reliable confirmation from your partner.
Fears that their partner will not include them in something. So, to keep the relationship going, they will always do what their partners tell them to do.
Anyone can watch a couple and tell them if they look like they are in a codependent relationship. In a codependent relationship, a lot of time is spent trying to change the other person's behavior or adjusting to their needs. A codependent person lets someone else control their actions and wants to be in charge of their efforts.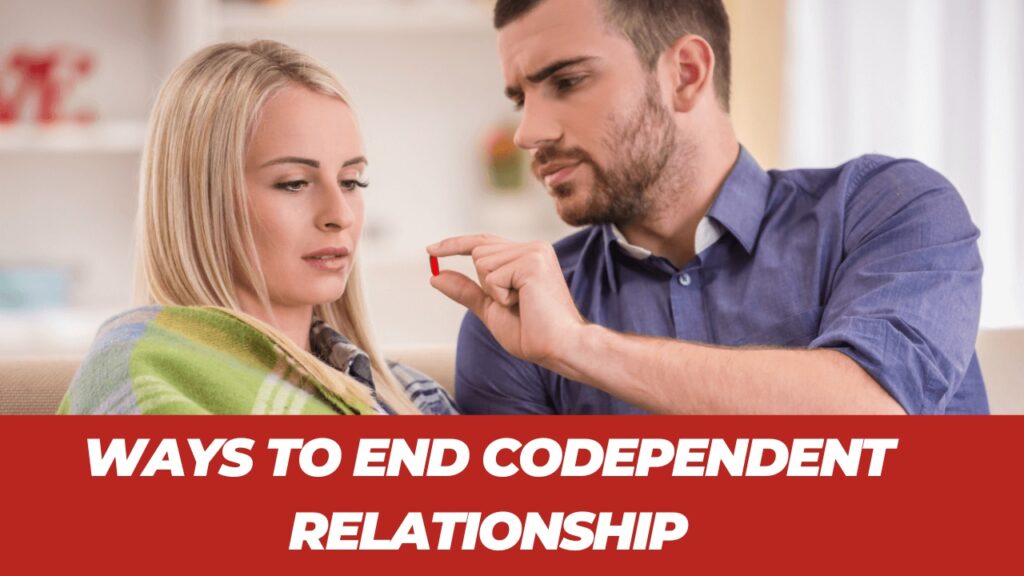 Ways To Stop Being Dependent
Maybe you care too much about your codependent partner to leave the relationship. In this kind of situation, getting help for codependency is very important. Focus on what makes you happy instead of what you think other people will like to get over this.
Simply put, you should start living for yourself. Put your own needs and wants ahead of those of others. In the same way, don't give up your values to make other people happy.
Your mental and physical health are too important to put at risk by letting your thoughts hurt them. Keep a good attitude and never take less than you deserve. Think about the good things you do for yourself.
Give your partner some space for a while. Please be patient because you and they will both benefit from this. Don't let what's happened to you define you, and make sure to spend time with your friends. Changes you make to your daily routine can help you fight your tendency to depend too much on things.
Also check: 8 Best Marriage Advice For Newlyweds
Divorcing a Codependent Partner
Unfortunately, this happiness won't last forever, and soon one of you will start to feel unhappy or taken for granted. Dependent relationships can only end if both people leave each other. Getting away from someone who needs you is not an easy thing to do.
When a codependent relationship ends, it can make people feel many different things, many of which have to do with a lack of attachment. Because of their codependency, the person's sense of worth is hurt. People can't fully enjoy life because they fear no one will ever love or accept them. Even after the relationship is over, the person may still feel alone.
Because of how they act, it's hard to end a relationship with someone who is codependent. A codependent person will always put the needs and wants of others ahead of their own. He puts his partner's needs before his own, which hurts his interests and hobbies. 
You must take the initiative to set healthy limits if you want to stop being codependent. Codependent people often have a hard time saying "no." Any way you look, he needs to learn when it's okay to say no.
So, setting limits is an integral part of everything you do. Hence, you and your partner will know what to do and how to act in different situations. If you set firm limits for yourself, your partner will value and respect your choices.
Here are some conclusions about breaking up with a partner who is too dependent on you.
Even though we never say that a relationship should end. Sometimes, though, the situation is so bad that we must complete a connection.
In this detailed guide, you'll learn what works best when ending a relationship in which one person is dependent on the other. I hope that the above ideas will help you.