Trust is an important part of a happy relationship, but it doesn't happen right away. Once it's been broken, it's not easy to gain back trust in a relationship. Getting caught cheating on your partner is the first thing that comes to mind when you think about things that can make you lose trust in your relationship. There are, however, other ways besides adultery that a love relationship can lose trust. When you've been lied to, you probably don't think as much about why the person lied.
But sometimes people have to lie because they have no other choice. Putting yourself in their shoes and thinking about how you would act can be helpful, but that doesn't mean you agree with what they did. If you are a woman who is reading this article, you must read The Most Unforgettable Relationship Advice for Women.
How do you know if you can trust someone?
Before talking about how trust could be rebuilt, it's important to fully understand what trust is. As a first step, it might help to think of trust as something that each person must decide for themselves. You can't make someone believe in you if they don't want to. Sometimes, you might not trust someone until they've done something to earn your trust.
Even if you trust your partner in a romantic relationship, that doesn't mean you have to tell them everything. It's normal to think about yourself and your life. In a crisis, it's possible for you to gain back trust in a relationship. But when there is trust, neither partner needs to keep an eye on the other. You can talk to them about any worries you may have because you trust them.
Also read: Reasons Why Relationship Fails And What To Do About Them?
When trust is broken, it needs to be fixed right away
You may feel physically sick and hurt because someone you trusted tricked, confused, or betrayed you. It might make you think about your marriage and how you feel about your partner in a different way.
Here are some great places to start if you want to rebuild trust with your audience
Think about what could have made the other person lie or betray you. When you've been lied to, you may not give the truth as much weight. There could have been a misunderstanding or a failure to communicate that led to the trust being broken.
No matter what the case is, they need to hear loud and clear that what they did was wrong. But if you can figure out what's behind their actions, you'll have a better idea of whether or not you can start to rebuild trust with them.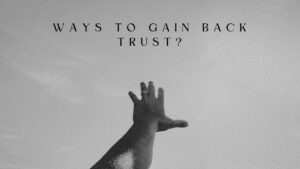 Try to forget and forgive
If you want to fix a relationship that was hurt by betrayal, you have to be ready to forgive. You'll have to forgive your partner, but you may also have to forgive yourself. If you blame yourself, even a little, for what happened, you'll be more likely to feel bad about yourself. After that, your relationship is less likely to get better.
Depending on how badly your partner hurt you, it may be hard for you to forgive them and move on with your life. Be aware, though, that just because you forgive your partner doesn't mean you have to put up with their bad behavior. Instead, you're giving yourself power by letting yourself accept what's happened and move on. You're letting your partner learn from their mistakes and grow as a person.
Try hard not to think about the past too much
After talking about the betrayal for a long time, it's best to put it to rest as soon as possible. If you don't want to talk about it in future fights, don't. You should also try to limit how much you watch your partner make it less likely that they will cheat on you again.
On the other hand, giving your marriage another chance by trusting your partner again is an act of trust. Even though you don't fully trust them yet, it sounds like you're willing to give them another chance.
Couples therapy can help if one partner is having a hard time getting over what happened or if each person has doubts about the other's honesty or loyalty in the future. But these signs could also mean that you aren't ready to work on the relationship yet.
Also read: The Best Tips To Make Your Husband Love You Again
Don't get mad at your partner
Even if you're ready to say sorry, talk about what happened, and start making things better, it's possible that your partner isn't. It can take time to get over the emotional hurt of being betrayed or having your trust broken.
Not only that but how people understand information varies a lot from person to person. One of you might be eager to start talking right away. On the other hand, it can take them days or even weeks to figure out how to help you.
When they don't want to talk, it's important not to push them. You should tell your lover you're sorry and that you're ready to go whenever they are. In the meantime, if you're having trouble, a counselor can give you advice that is fair and positive.