In the Animal Crossing games, Hamster Flurry is a Normal-type villager. Since her first appearance in New Leaf, she has been in all the games. You must really like this cute character in the game and would love to know more about her. It is understandable reasoning that you are here reading this article. So, keep on reading as we have mentioned all about your favorite character in this article, which is Flurry.
What Should You Know About Flurry Animal Crossing?
Her English name may have come from the word "snow flurry," which is used to describe a small amount of snow that falls quickly. Her name, Yukimi, comes from the Japanese words for "snow" (Yuki) and "to see" (mi), so it has something to do with winter. Like hers, their names are soft and pretty. I'm sure Flurry would like to hang out with you while you watched the snow.
How Does Animal Crossing Flurry Look?
As Flurry looks, we see that she is very small. The hamster villagers are some of the smallest NPCs in the game. They all have round bodies, small ears, and short arms and legs. Flurry still looks like winter because of how it looks. Her fur is as white as snow, and the tips of her fingers and toes are a refreshing shade of blue.
With her red Flower Sweater, Animal Crossing Flurry looks very cozy. She grabs her Snowflake Umbrella whenever it starts to rain to keep herself dry.
Her almond-shaped eyes look good with her short, crinkled eyelashes. The inside of her pink sweater and her ear canals are the same color.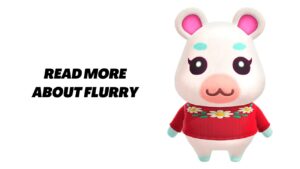 What Flurry Really Usually Say In the Game?
She often uses the word "powderpuff" in her speech. This is probably because snowflakes and newly fallen snow feel like powder when you touch them. She usually ends her sentences with "nano desu," which is a feminine and semi-polite Japanese phrase that means "yes."
Also read: How Olivia Animal Crossing Is Making Animal Crossing A Great Game?
What Is The Behavior Of Flurry In Animal Crossing Game?
Flurry Animal Crossing is always friendly and polite to visitors. With Flurry by their side, most people in the town have a good time and treat her with respect. People in her community who want to find a good book turn to her because she loves books so much.
How Does Flurry's Home Look?
All our readers must be looking forward to this information. So, finally, we are here discussing the presentation of Flurry's home. With a blue rustic door, white stucco walls, and a beige stone roof, her home is warm and inviting. When you walk in, you'll see Flurry's home, which is simple and comfortable. On a pot rack above a gas range, her cookware and a small refrigerator are on display. Her plain wooden bed has pink-and-white checkered sheets that match her pink hamster cage, Anthurium plant, and cute music player.