This lucky and cute little black cat is a great addition to your island. Kiki is the villager of the day in Animal Crossing. Kiki animal crossing is the first villager among the game's characters and she is sweet and cute.
In Animal Crossing, who is Kiki?
Kiki, a black village cat, acts like any other black village cat. She was in the first Animal Crossing game and has been in every other game in the series since then, most recently in New Horizons.
Fans of the show liked her a lot because she was one of the first villagers. She is a Libra because she was born on October 8th.
Also read: Who Is Gayle In Animal Crossing: New Horizons?
Kiki's Name
Both the Japanese and English versions of her name are cute.
She might have been named Kiki after the black cat in the Studio Ghibli movie Kiki's Delivery Service. Kiki, the main character of the movie, goes on adventures with Jiji, a black cat.
Kyabia is her real name in the original Japanese games. Kabila could be a Japanese word or pronunciation for caviar. Sturgeons make prized black caviar, which goes well with Kiki's style.
Because it is raw and has a lot of salt, fish roe shouldn't be given to cats as a treat very often.
How Pretty Kiki Is
Kiki has jet-black fur all over her body, and the tips of her arms, legs, and tail are even darker. Kiki's animal crossing has red lips, yellow eyes, and pink and purple insides of her ears. Her design has only one other color, which is black. Her ears are perked up, and her nose is just a little bit up.
She has worn different styles of her Argyle shirt to every game. In New Horizons, the Argyle Sweater is now more stylish.
Kiki always has a smile on her face, which shows how happy she is. Since it's raining, she gets out her matching Sunny Parasol.
Also read: What Should You Know About Bob Animal Crossing?
What Kiki says most of the time
Kiki uses the word "kitty cat" a lot in her speech. She is a cat, and the word "ki" is in her name, so this saying fits her. "Dani," she says in Japanese.
Characteristics of Kiki's Mind
Kiki is a typical villager. He or she is friendly, happy, careful, and kind. She loves to send you messages that make you feel good, and she would be glad to see the player again.
Even if she is sick, she will worry about you and feel terrible if she can't give you the attention you need at home.
If you make friends with the other Normals on your island, it will be twice as fun to live there. Kiki animal crossing and the other Normal villagers often talk about the fun of things like baking, going on picnics, joining a book club, looking at the stars, and giving each other gifts.
You can get to know Kiki and the other villagers better by talking to them and giving them gifts every day.
She will eventually give you a lot of gifts to show how much she likes you. People who want to give you gifts shouldn't surprise you with their kindness.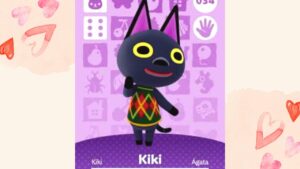 Kiki's House is a beautiful place
What would a black cat do for a living? If you thought Kiki's house was a scary mansion in the middle of the woods with dark walls and carved wooden furniture, you're in for a pleasant surprise.
Kiki is a straightforward person, and her home shows how kind she is and how she finds happiness in the little things in life. She has a red wooden tile roof, an orange stucco front, and green windows around her front door.