Here we are with some of the beatific Minecraft house ideas. In Minecraft games, players can try out different things and build whatever they want. But if you're having trouble coming up with an idea, it might help to look at what other people have done to get some ideas. If you want to know how to decorate your Minecraft house, keep reading. You can build any house you can think of in Minecraft. The only things that stop you are your imagination and the different building materials. Over the past ten years, one of the biggest player bases the world has ever seen has built millions of houses, many of which are amazing in their beauty and size.
There are many different kinds of Minecraft beach houses to choose from. But you can use the best beach house ideas in Minecraft to get ideas for your next building.
Tropical Beach House 
The best of Minecraft house ideas is building up a tropical beach house. The Tropical Beach Home is the first idea on this list of beach house plans for Minecraft. If you want a beach house that looks and feels like a tropical paradise, this is a terrific choice.
It has a very tropical feel to it because of things like the natural design and the mossy cobblestone walls and leaf blocks. This coastal hideaway has a lawn and large rooms that can meet all of your needs.
Mangrove Starter House
It's a great choice for anyone looking for a place to live. If you wanted to make your life easier, you could move out of your main home and into a small, cozy, rustic house like this one.
Also see: Keep reading to know about the best Roblox Avatar Ideas
Modern Beach House
The Modern Beach House is a great choice if you want a beach house that is modern and made of spruce wood and white concrete. Because of how it's built, it's a beautiful addition to any beachfront property in Minecraft. If you want a modern beach house, this is a great choice. There is room for everything you own.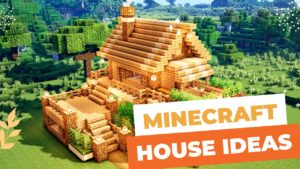 Fantasy Mansion
It will surely get your attention if you're looking for ideas for a slightly bigger base. The strength of this log and stone masonry home comes from the way it was built and how well it was put together. This house is beautiful to look at because of all the chains, lights, growing plants on the walls, trapdoor shutters, and amazing clock faces in the towers.
Small Modern Beach House
This small modern beach house is a great alternative if you're looking for minimalist beach house ideas in Minecraft. After building this kind of beach bungalow, you can quickly and easily start exploring your new area.
This is one of the best Tropical Beach houses where you can have the convenience and style of a beach house no matter how your world is set up because a basic modern beach house can be built anywhere.

Via Rizzial
White Modern Beach House
The house has a modern look because it is mostly made of concrete and wood, and it can be built quickly because its design is simple. Take in the sun and stars from the house's large porch or rooftop deck, which both face the ocean.
Japanese Pagoda-Style House
This is an amazing building with unique layers of wooden slabs, soft lighting from lanterns and Redstone lamps, and a beautiful garden of pink and white wool cherry blossom trees. Also, the lighting looks a lot better if you install one of the best Minecraft shaders or if your computer is powerful enough if you use ray tracing.
Stone and Wood Beach House
The house is made of wood and stone that can be found nearby, and its sleek design will make your friends jealous. Teal could be a great color for a beach house if you want something different. This sophisticated color is a great way to add a touch of class to the Minecraft world. People who want to make a strong architectural statement should choose the turquoise beach house. This beach house will get a lot of attention because of how modern it looks and how striking the teal color is against the water.