Based on global shipments during the second quarter of 2023,Chinese smartphone company Xiomi has overtaken Apple and is now the world's second largest Smartphone making company.A new report from Canalys.
The emerging Chinese tech giant named 17 percent of global market share for itself. , according to the research firm, preceded by Samsung's 19 percent and succeeded by Apple's 14 percent.
Oppo and Vivo have concluded the list of top five vendors, rounding off at 10 percent ( distinctly).
Landmark success in a quicker timeframe
While all top five brands have improved their shipment profile  gradually, year by year during the smartphone revolution but what is distinctive feature of Xiomi is it's overtaking of Apple like giant and a hike of 83 percent in smartphone production in one year (second quarter of 2020)

We've moved up one more spot! Just in from
@Canalys
, we are now the 2nd largest smartphone brand worldwide in terms of shipments. This amazing milestone couldn't have been achieved without our beloved Mi Fans!
#NoMiWithoutYou
RT with
from your Xiaomi smartphone 🙂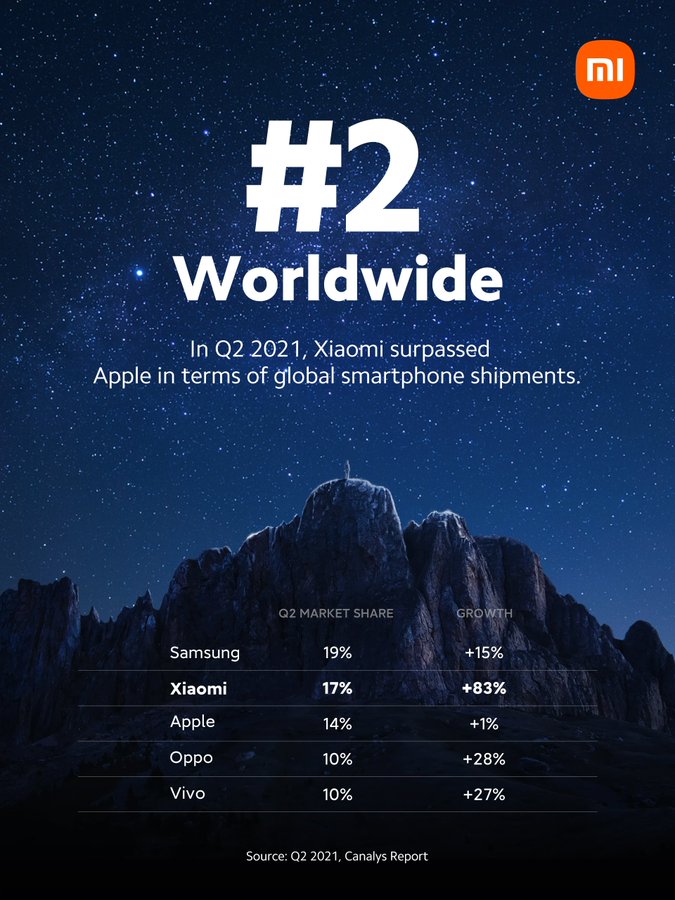 "Xiaomi is growing its overseas business rapidly," Canalys Research Manager Ben Stanton says, citing sales boosts in regions including Western Europe, Africa, and Latin America. "It is still largely skewed toward the mass market, however, and compared with Samsung and Apple, its average selling price is around 40% and 75% cheaper respectively. So a major priority for Xiaomi this year is to grow sales of its high-end devices, such as the Mi 11 Ultra."
Huawaei 's status
Huawei was the pioneer of global smartphone production and it overtook Apple back in 2019. However, due to US-imposed sanctions and trading bans, it was greatly subsided in international market. So far, Xiaomi appears to be the moon amongst the stars.