Sodium, potassium, and magnesium are the minerals that our bodies need most to keep our cells working at their best. It is needed for a number of metabolic processes to work and helps keep organs and body systems healthy. Magnesium is good for the brain, blood vessels, heart, and even bones. Magnesium is needed for about 300 enzymes to work properly. Magnesium rich foods are in charge of a wide range of cellular processes, such as making new proteins and keeping existing cells healthy. Over the course of its history, magnesium has been used to treat a wide range of health problems. 
Let's Know About The Foods That Are Rich In Magnesium
Magnesium is an important element that your body needs to work well. It can be found in many magnesium rich foods. It is in charge of making energy and making sure that chemical reactions and the amount of sugar in the blood stay at the right levels. Magnesium is an important part of keeping other minerals, like calcium, potassium, and zinc, at the right levels. Magnesium is important for the health of your kidneys, heart, and muscles. The mineral also helps teeth and bones grow in the right way. In its natural state, magnesium can be found in a wide range of foods. 
But the typical diet of an adult only gives them 66 percent of the magnesium they should be getting every day. It's possible that this is because so many people in our society eat processed foods. The best way to increase the amount of magnesium in our diets is to eat foods high in magnesium. In this article, we will give you a full list of the foods you should eat if you want to get more magnesium from natural sources.
Also see: Try These Keto Ground Beef Recipes If You Are On A Keto Diet
List of Foods High In Magnesium So You Eat Them
Here we are going to entail magnesium rich foods list. So, the next time when you think about taking diet that is rich in magnesium, you can have these foods. You no longer would have to worry about what food is high in magnesium. This list will have to find out about the foods that you can eat if you are looking forward to increasing your magnesium intake.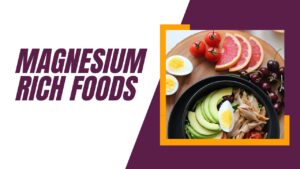 Almonds
Almonds, which are often thought to be the nut with the most health benefits, can't be left out of a conversation about nuts. Almonds are full of fiber, vitamin E, manganese, and magnesium, and they are also a good source of protein. In addition, they add healthy fats to your diet. These fats can act as antioxidants and anti-inflammatories, which further lowers your risk of getting cancer.
Molasses
Crushed sugar beets are cooked in water until a rich syrup is made. Compared to sugar, it has a much wider range of nutritional uses. It can be used as a sweetener, but it also has a lot of other uses. Molasses is sweet and has a lot of vitamins and minerals. It is among the best magnesium rich foods. It can be added to food and drinks to make them taste better. Because of this, it is generally thought to be safe for people with diabetes, and it may help some illnesses, like anemia, get better. 
Molasses has an amazing amount of calcium, which, when combined with the bone-strengthening effects of magnesium, helps to keep your bones strong and healthy. This is a cool thing that happens when you eat molasses. You only need a very small amount of this sweetener, but to give you an idea, one cup of this syrup has 820 milligrams of this mineral.
Also see: Keto Diet Recipes That Are Going To Amp Up Your Ketogenic Diet
The rice bran
We can't ignore rice bran when it comes to naming foods high in magnesium. Rice bran can be used in many different ways, like in breakfast cereals and baked goods. If you drink one cup of rice bran, which is about 118 grams, you'll get about 992 mg of magnesium, which is a lot more than what your body needs in a day.
Pumpkin Seeds
The full flavor of these seeds comes out when you roast them and add a little salt. They have the potential to be both a tasty snack and a healthy one. Pumpkin seeds have a good amount of zinc and a large number of antioxidants. When roasting pumpkin seeds, you should not let them cook for more than 20 minutes. If you roast it for longer than that, the molecules that make up the nutrients would change in a number of ways.
You will get a lot of carbs and nutrients like phytosterols, tocotrienols, tocopherols, and a lot of other nutrients. You might have to get used to the way it tastes and feels at first, but it will be well worth it.
Brazil Nuts
Brazil nuts are a kind of fruit with a useful seed inside. A half cup has 250 milligrams of magnesium and selenium, which is a mineral that doesn't show up in many foods. Selenium is a trace mineral that is hard to find and has great antioxidant properties. Because of this, Brazil nuts are thought to help prevent cancer, and some people even think they might make you feel better if you eat them.
Sesame seeds
If you don't have pumpkin seeds or don't like eating them, you could also try sesame seeds which are magnesium rich foods. Compared to the amount of magnesium that is recommended to be eaten every day, there is about 260 mg of magnesium in a half cup of sesame seeds. You would also get a lot of nutrients that can reduce inflammation and act as antioxidants. Some people use sesame seeds to lower their risk of heart disease and avoid atherosclerosis, which shouldn't be a surprise.
Cocoa Powder
Cocoa powder, which is sometimes called "chocolate powder," is good for your health just like chocolate, but it doesn't have any added sugar. It has a good balance of antioxidants, flavonoids, and magnesium, and a good amount of each. One cup of cocoa powder, which is about 86 grams, has about 430 milligrams of magnesium.
Wrapping it up!
Magnesium is crucial to your body's proper functioning and is thus a highly vital substance to consume. In fact, the mineral is required for over 300 different biochemical processes. Your muscular function will suffer without it. Magnesium rich foods are important for maintaining a healthy heart rate, stable blood sugar levels, and pain-free, limber joints. Proteins, bones, and DNA may all be synthesized with its aid. In this article, we mentioned all the important foods high in magnesium.