You may have heard that social media could have some bad effects on our everyday lives. Even if they're right, that doesn't mean they're common or even the norm. The truth is that social media can also be used in good ways. There are many positive effects of social media as well that you cannot ignore.  
This could make it easier for people to talk to each other and strengthen the bonds they already have. Using social media can also help students grow and learn. And it could give businesses the chance to get more customers and make more money.
Networking Is About Making Connections With Other People
With social media, it's easier to find people who like the same things you do or to meet new people who might become friends. Joining a group of people who think like us might help us feel better about ourselves. The positive effects of social media make it easy to keep in touch with family and friends who live far away. You can keep in touch by sending texts, uploading photos, calling, or hosting video chats.
In addition to keeping in touch with people you already know, social media lets you meet new people. No matter how close or far apart people are, it's easy to connect with them and share information. Digital media have the most interactivity of any kind.
Talk to More People
Anyone of any age can use social media to reach more people than they would in any other way. This is one of the positive effects of social media which can help people's ability to communicate well, and spread important information. Teenagers and young adults have built huge online communities that are visited regularly by hundreds of thousands or even millions of people.
Inculcates Kindness In The Social Media User
When people post online, they often reveal personal information about themselves or their problems. By posting words of comfort and encouragement online to someone with whom you have something in common, you can show that you care. Show your family, friends, and acquaintances that you care about them and can see things from their point of view. Seeing how other people deal with problems and keep going can also give us motivation and a new point of view.
By Being There, You Can Help
You can use social media to promote a cause or show your support for a campaign that is already going on. It's also a place where you can give and get support for your projects, like starting a business, putting out a book of photos, or writing poems. Connect with people who have similar interests and skills to you.
Also see: The Best App For Watching Tv Shows And Movies In Chinese Is IFVOD Tv
Better Communication
Most of the time, new ideas come from social media. Even though some talks may seem too heated or tense to have with people you care about, they may actually be about important things that you need to talk about with people you trust. Joining an organization for a hobby or line of work is another great way to meet people with similar interests, learn more, and grow personally or professionally.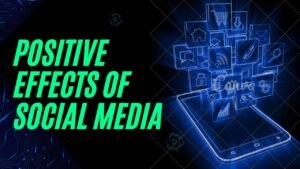 Getting the news out
In the globalized world we live in now, information may move quickly through the internet. Even though this can sometimes be too much, it does help us stay in the know. This could be a big help if you need to get the word out quickly. If someone lost their dog in a small town, they could use social media to get the word out. Everyone in the neighborhood could keep an eye out and tell each other right away if they see anything important.
Establishing a Company
Social media is a great way for a new business with something truly unique to offer to get the word out. Make sure your business has a voice that your ideal customers can relate to, and use that voice to spread useful information. Social media is a great place for new businesses to start, but it's also a great place for established businesses to advertise and gain new customers.
Making a name for yourself
To gain credibility and authority online, you need to show that you are an expert in your field. This is one of the marvelous positive effects of social media. You can do this by sharing authoritative information and making connections with people and other businesses. More and more people will talk about how awesome your business and products are.
How to Get People to Come to Your Website?
If you want more people to check out your website, you could promote it on social media and send people there. Sharing more useful information will increase the size of your audience, their interest, and, in the end, your income. By using ads, you can reach both your current customers and people who share your interests and values.
Getting better at customer service
Another way social media can help businesses is by making the customer experience better. Make your followers feel like you care about them by responding quickly to their questions and comments. Promoting good interactions with customers across all of your social media platforms is a good way to get people to follow you and trust you. They know they can count on you to help them with whatever they need.