The ketogenic diet is made up of a lot of fat, a moderate amount of protein, and very few carbohydrates. If you eat fewer carbs, your metabolism might change and switch to a Ketosis state. When the body doesn't get enough glucose from food, it goes into a metabolic state called ketosis, in which it breaks down stored fat into molecules called ketone bodies. Once you reach ketosis, most of your cells will use ketone bodies instead of glucose until you eat carbohydrates again. Keto diet foods will help you get into the ketosis state early.
When you need a diet that's low in carbs, high in fat, and has a moderate amount of protein, it's hard to decide what to eat. Here is a list of foods that are generally okay to eat on a ketogenic diet, foods that you should avoid, and foods that you can sometimes eat. 
These Keto Diet Foods Can Be Eaten By People Who Are Following The Diet
This is a list of all the keto diet foods that are low in carbs and good for people on a ketogenic diet. Fish is a good source of protein and has few carbs. It also has B vitamins, potassium, and selenium, which are all important nutrients. Omega-3 fats, which are found in fatty fish like salmon, sardines, mackerel, and albacore tuna, have been shown to lower blood sugar levels and make insulin work better. Regularly eating fish is linked to better mental health and a lower chance of getting long-term illnesses. At least twice a week, try to eat at least 6 ounces of fatty fish.
Vegetables That Don't Have A Lot Of Carbs
On our keto diet food list, there is Starch-free vegetables are a good source of many nutrients, like vitamin C and a number of minerals, but they are low in calories and carbs. Antioxidants are also included to stop free radicals from hurting cells. Stick to vegetables that have less than 8 grams of net carbs per cup and no starch. Net carbs are the number of carbs that are left over after fiber is taken out. You can choose broccoli, cauliflower, green beans, bell peppers, zucchini, or spinach.
Cheese
Cheese is a good choice for people on a keto diet because it has few carbs and a lot of fat. It's also a good way to get calcium and protein and so is mentioned in our keto diet food list. One ounce of cheese, on the other hand, has about 30% of the daily recommended amount of saturated fat. Watch how much cheese you eat at once if you want to cut your risk of heart disease. 
Avocados
Choose fats that are good for your heart, such as the monounsaturated fat and potassium in avocados. The average American diet has a small amount of both of these nutrients. In total, a medium avocado has 9 grams of carbohydrates, 7 of which come from fiber. Each half of an avocado has about 9 grams of fat. You can lower your cholesterol and triglyceride levels by focusing less on animal fats and more on plant-based fats, like those in avocados.
Meat And Eggs From Animals And Birds
Meat is an important part of the ketogenic diet because it is a good source of high-quality protein. Fresh meat and poultry don't have any carbs, but they do have a lot of B vitamins and minerals like potassium, selenium, and zinc. On the ketogenic diet, you can eat processed meats like bacon and sausage, but doing so often may not be good for your heart health and may even make you more likely to get some types of cancer. You should eat less processed meat and more chicken, fish, and beef, which are all lean meats.
Eggs
Eggs are a great way to get a healthy amount of protein, as well as B vitamins, minerals, and antioxidants. Due to this reason, they are the best keto diet foods. There are no carbs in two eggs, but there are 12 grams of protein. Egg consumption has been linked to a rise in hormones that make you feel full and a steady level of blood sugar. Antioxidants like lutein and zeaxanthin are good for your eyes and are found in eggs. Hormones that are released when people eat eggs make them feel fuller more quickly.
Seeds, Nuts, And Oils That Are Good For You
Nuts and seeds are a great source of healthy fats like polyunsaturated and monounsaturated fatty acids, as well as fiber and protein. The amount of net carbs in them is also not very high. On the ketogenic diet, olive oil and coconut oil are two of the best fats to use. High levels of the natural acid oleic acid, which is found in olive oil, have been linked to a lower risk of heart disease. 
Total Carb counts for 1 oz. (28 g) of nuts and seeds (net carbohydrate equals total carbs minus fiber):
Almonds: 3 g net carbs (6 g carbs)
Brazil nuts: 1 g net carbs (3 g carbs)
Cashews: 8 g net carbs (9 g carbs)
Macadamia nuts: 2 g net carbs (4 g carbs)
Pecans: 1 g net carbs (4 g carbs)
Pistachios: 5 g net carbs (8 g carbs)
Walnuts: 2 g net carbs (4 g carbs)
Chia seeds: 2 g net carbs (12 g carbs)
Flaxseeds: 0 g net carbs (8 g carbs)
Pumpkin seeds: 2 g net carbs (4 g carbs)
Sesame seeds: 4 g net carbs (7 g carbs)
Berries
Antioxidants called polyphenols are found in berries and have been shown to reduce inflammation and keep you from getting sick. They have a lot of fiber but not many carbs.
Total Carb counts for 1/2 cup of some berries:
Blackberries: 3 g net carbs (7 g carbs)
Blueberries: 9 g net carbs (11 g carbs)
Raspberries: 3 g net carbs (7 g carbs)
Strawberries: 3 g net carbs (6 g carbs)
Coffee, Tea, And Other Drinks That Don't Have Any Added Sugar
Since neither coffee nor tea has any carbs, fat, or protein when no sweeteners are added, they are considered to be keto-friendly. Several studies have shown that drinking coffee lowers your chance of getting heart disease and type 2 diabetes. Tea has more antioxidants and less caffeine than coffee, so it may help lower the risk of heart disease, help you lose weight, and boost your immune system.
The amount of carbs in different types and serving sizes of foods varies a lot, so it's important to read labels carefully before eating them. Dark chocolate lowers blood pressure and keeps arteries healthy. This may decrease the risk of heart disease. Cocoa has been called a "superfruit" because it has a lot of antioxidants. Both cocoa and dark chocolate have flavanols, which make them good for the keto diet.
If you are willing to know about breakfasts in which you can incorporate cheese, we have a really good detailed article for you that you should not miss. Keto Breakfast Ideas Which Good For People Following Diet is for you and would brief you on how you can use the above mentioned keto diet foods to make a morning meal for yourself.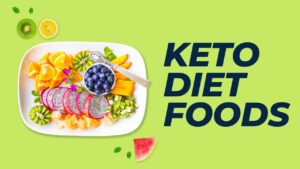 People On The Ketogenic Diet Can't Eat Any Of The Following
Here are some of the keto diet foods to avoid and should stay miles away from during the diet.
Junk Food
Things like chips and crackers that are baked in the oven, both with and without gluten.
When you're on the ketogenic diet, there's nothing you can't eat at all. All that matters is how many carbs you eat and how you use them.
Juices
Whether it is made naturally or not, fruit juice has a lot of sugar and other carbs that are quickly absorbed and can raise blood sugar levels. Try not to be close or in the air.
Sugar, Honey, And Syrup Of Every Kind
Sugar, honey, maple syrup, and other sweeteners like these should be avoided because they are high in calories but low in nutrients.
Snacks Like Chips, Crackers, And Other Foods
Chips, crackers, and other snack foods made from processed grains should be avoided because they have a lot of sugar and not much fiber. So, we have mentioned them in the list of keto diet foods.
Conclusion
In this article, we have entailed what is Keto Diet and how you can also switch to a keto diet. It is so easy, all you have to do is increase the intake of the foods that we mentioned are good for the keto diet. Also, stay away from the other foods that might be bad for you during the diet.