Snacking means eating small meals or snacks between bigger meals. In between meals, people eat snacks, which are smaller amounts of food. Even though studies on the subject are mixed, there is some evidence that eating snacks more often can help control hunger and keep blood sugar levels in check. Both of these things are important for losing weight. Even though most people don't eat nearly enough fruits and vegetables, healthy snacks for weight loss can help you get the amount you need each day.
Snacks with protein, fiber, and healthy fats will keep you full until your next meal, so you won't eat too much. If you plan ahead and focus on nutrient-dense foods, snacking can help you lose weight by making you less hungry and keeping you full between meals.
Even though there is no magic snack that will make you lose weight, adding any of these healthy snacks for weight loss to your daily diet may help.
Mixed Nuts
Nuts are a great healthy snack because they have a good amount of fat, protein, and fiber. Not only are they tasty, but they are also very filling and have a lot of health benefits. Even though nuts are high in fat and calories, some research shows that eating them occasionally can help you keep a healthy weight.
There are many different kinds of nuts, such as walnuts, almonds, Brazil nuts, hazelnuts, pine nuts, macadamia nuts, cashews, and pistachios. They are good for eating on the go because you don't have to worry about keeping them cool. You should be sure not to eat more than 1 ounce, which is about 1/4 cup.
Red bell peppers stuffed with cheese and guacamole
Red bell peppers and guacamole make a snack that is full of nutrients and will keep you full for a long time.
All bell peppers are good for you, but red bell peppers have more antioxidants than green or yellow bell peppers. Guacamole has a lot of good fats, fiber, vitamins A, B, and C, and minerals like potassium and phosphorus.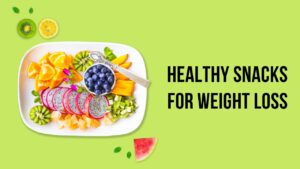 Peanut butter and apple slices
Apples and peanut butter taste good and are good healthy snacks for weight loss for you. First of all, apples are a great source of fiber. As an alternative, peanuts have fiber, plant-based protein, and healthy fats, all of which make you feel full. Apples and peanut butter go well together because they are both crisp and smooth. Use more cinnamon if you want more flavor.
Remember that a lot of store-bought peanut butter has things like sugar and oil added to them. Read the label to find a brand that only has salt and peanuts.
Also see: Let's Learn All About Snake Juice Recipe With Us
Sticks of celery dipped in cream cheese
Traditional low-carb snacks, like celery sticks with cream cheese, might make you feel full longer. The combination of smooth cheese and crunchy celery makes a snack that is filling and high in fiber. For a crunchy and smooth snack, try dipping celery sticks in peanut or almond butter. 
Fruit with cottage cheese
One cup of cottage cheese has 24 grams of protein, which makes it a filling alternative to dairy products that are high in fat. Cottage cheese and fruit make a tasty and filling snack because the fiber in the fruit balances out the protein and fat in the cheese. Cheese tastes good with pineapple, papaya, and watermelon, which are all tropical fruits.
Sharp kale
Kale is a superfood because it has a lot of fiber and antioxidants like beta carotene, lutein, and zeaxanthin.
It also has a lot of calcium and phosphorus, which are both very important minerals. It doesn't stop your body from absorbing calcium because it has less of the antinutrient oxalic acid than most other leafy greens.
Kale chips cooked in olive oil taste better and are crispier. They are also healthier and fill you up more. Hence, they are the best healthy snacks for weight loss you can.
Dark chocolate and almonds that have been toasted
We highly recommend putting almonds and dark chocolate together. The crunch of the almonds goes well with the rich taste of the chocolate. Since antioxidants are found in dark chocolate and almonds are a tasty source of good fats, they go well together.
This makes a snack that is filling, easy to carry, and healthy that won't break the bank. You could mix a few chips with a teaspoon of dark chocolate, or you could eat a square of dark chocolate with nuts on top.
Also check: Try These Keto Ground Beef Recipes If You Are On A Keto Diet
Thin slices of cucumber and dried hummus
The sharp coolness of cucumber and the soft, creamy texture of hummus go together very well. The main things you need to make hummus are tahini, olive oil, garlic, and chickpeas. So, it gives you a wide range of nutrients, like plant-based protein, fiber, and fats that are good for your heart. Serve them with whole grain crackers or pretzel sticks to make them a heartier snack.
Something fruity
There are easy-to-make alternatives to processed foods that are healthy. Even one piece of fruit can be enough to make you feel full. Bananas, apples, pears, grapes, grapefruit, and oranges are all fruits that are easy to carry around and eat. A slice of fruit is a good choice for a quick snack because it has fiber and nutrients. Mix some yogurt or almonds with your fruit for a snack that will keep you full.
Eggs with a hard shell that have been cooked all the way
Eggs are one of the best foods to eat when you're trying to lose weight. Because they have a lot of protein, they are a great way to satisfy hunger. Also, hard-boiled eggs are easy to take with you anywhere and are a good source of protein. Keep in mind that vitamin D and choline are only found in egg yolks.
Blue cheese on top of baby carrots
When you want a salty snack, dip a bunch of baby carrots in blue cheese dressing and eat them. Carrots should also be eaten with a creamy salad dressing or dip, since fat helps the body absorb the fat-soluble vitamins in carrots, like carotenoids. Blue cheese dressing might get you to eat more carrots, even though it doesn't have a lot of nutrients.